CACHEBOX supports all the common deployment methods for Forward caches. We can help you choose the best one for your network.
Transparent vs Explicit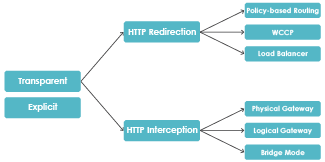 In explicit deployments, the user's client software (usually web browser) is configured to make requests directly via the cache. This entails configuring client devices individually or via a centrally distributed method, e.g. using an Active Directory group policy.
In transparent deployments, client computers do not need to be reconfigured, and web traffic is automatically rerouted via the cache. In this mode, users are not aware of the cache. There are several ways of achieving transparent deployments. They involve either HTTP redirection or HTTP interception.