Caching gives you a faster way to browse the web, transforming your quality of service (QoS):
In schools this can mean the difference between keeping students engaged and losing their attention as they wait for videos to buffer
ISPs can improve quality of service to gain an edge over the competition and reduce subscriber churn.
Enterprises can ensure that their employees have the internet access they need to remain productive, even at remote branch offices
Hotels, retail outlets and internet cafes can provide customers with reliable and profitable internet services
How to make your internet faster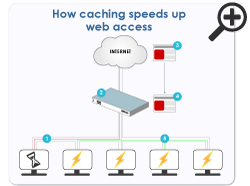 When one of your users downloads an object and you have a caching solution in your network, a copy of the object is stored locally on the cache.
Subsequent requests for the same file can then be served instantly, without re-downloading. As well as using less bandwidth, this improves response times for your users, making your internet connection faster.
In most cases, a transformed quality of service is at least a strong #2 reason for deploying a caching solution. In many cases, it is actually the #1 driver, particularly:
In higher/cheaper bandwidth locations
In networks where by definition many users are downloading the same content at around the same time – such as in education and training or at events
Where higher bandwidth is not available and existing bandwidth is too low all the time, not just at peaks – such as on board ships or in remote regions relying on satellite links
Where organisations offer a service to paying customers – the quality of the service and customer satisfaction is key