Software updates are often enormous files that can swamp a network when they are due.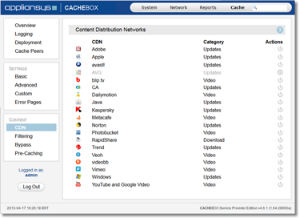 These updates cannot normally be cached, as simple caches are only effective when a whole file is requested. Software updates often require only part of a file, so make a 'range request'. The partial file will be served but not cached.
CACHEBOX is smarter. When a range request is served, the entire file will also be downloaded in parallel so that future requests can be served from cache.
Through automated updates CACHEBOX keeps up to date with the latest 'rules'. Meanwhile ApplianSys software engineers continually add more supported vendors to the list, keeping your appliance running at optimal performance and responding to changing software usage patterns around the world.