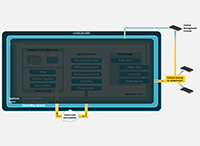 CACHEBOX's security hardened Linux based operating system (OS) is a custom-built appliance 'distribution', developed by ApplianSys to maximise security and reliability. The OS has been stripped clean and locked down:
Programs, services and files found on a standard Linux distribution that are not required for a cache appliance are removed. This makes CACHEBOX more secure and boot faster than a standard Linux server.
A fully configurable firewall allows access to the appliance to be restricted, with tight control of which ports are open, blocking different applications

It also allows CACHEBOX to be deployed as a network gateway, automatically directing web traffic to Squid
It can act as a NAT (Network Address Translation) server if required

CACHEBOX uses solid state CFast cards. The "Program Card" holds just the operating system and application software. The card itself is set as read-only, which makes it more secure in the event of unauthorised network access and avoids accidental damage from user errors.
The OS has a small footprint: once booted, it is retained in RAM, making it very fast.