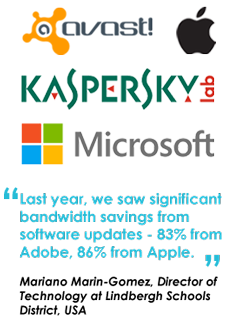 A 1 device to 1 student scheme enables independent learning and levels an uneven playing field for poorer students. But it gives your network managers the headache of managing software on thousands of additional devices.
OS, anti-virus and application vendors regularly provide updates to improve performance, usability and security. These files are often enormous, swamping your network when simultaneously accessed by thousands of devices.
Caching software updates is tricky: Often only part of a file is required and many caches can't handle partial 'range requests'.
Intelligent caches overcome this by recognizing the file as a software update and downloading the whole file for future requests.
To get the most out of your 1:1, you'll need a 1:1,000 approach to software updates that only caching can give you: 1 download:1000s of devices!