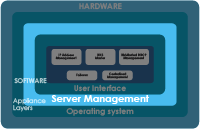 As well as DNSBOX's primary job – managing DNS, DHCP and IPAM services – you need to take care of the "housekeeping" – deploying, managing and maintaining the servers in your network. DNSBOX makes this easy too!
Working with DNSBOX, you will immediately notice all the smart administrative features – user management, logging, backup / restore, alerts and so on – which make it far easier than working with a general purpose server.
But you might not notice what's happening in the background. DNSBOX software self-manages, checking what is happening in the appliance environment, and responding to events – for example by automatically restarting on-box processes which stop unexpectedly. The result is a more robust DNS service, with less need for server administrator intervention to keep things running smoothly.
Shared Management Support/Users
To help make sharing administration tasks easier you can let multiple administrators in different locations log in to the DNSBOX interface at one time
The system allows you to easily add new users, assign roles and delegate responsibility
Users are authenticated either locally, or via RADIUS or LDAP
Security
DNSBOX's web interface uses configurable certificates to protect itself from 'eavesdroppers', ensuring that only people you allow can access your network data
It also lets you control which machines or networks can access the user interface
Connecting servers
DNSBOX makes it easy to establish secure connections between Masters & Slaves for best practice architectures
Connecting Active & Standby masters for redundancy is similarly easy, taking a few minutes rather than, for example, the hours required to setup a DHCP failover
Logging
DNSBOX supports the automated logging of system-level messages (authentication, operating system, hardware and networking). These logs are for fault diagnosis; there is no need to review them routinely.
Syslog files can be automatically redirected to a Syslog server elsewhere on your network to meet data retention laws or auditing requirements and assist in investigations. You can view recent messages and alerts directly from the Appliance Interface.
Reporting
Graphical reports give you comprehensive information on the health of your appliance – status of CPU, used memory, cached memory, load, temperature, fan speed and voltage
Information is presented in clear dashboards and graphs with options to customise what is displayed and what time periods are reported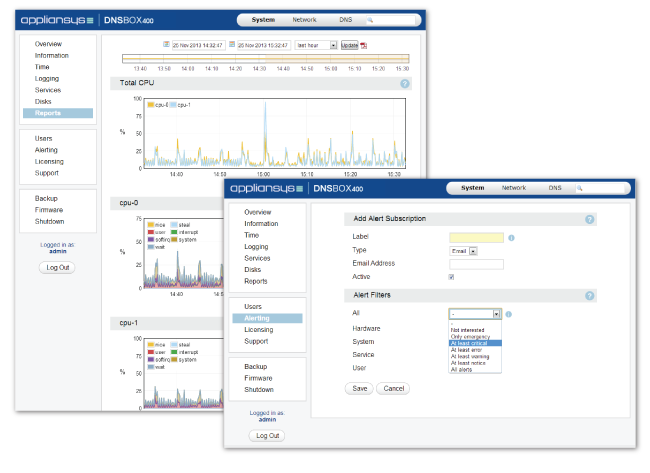 Alerting
DNSBOX can be configured to send alerts by email, SMS or SNMP to keep you up to date with events relating to hardware, system, service events or user authentication
SNMP
DNSBOX can be configured to allow Simple Network Monitoring Protocol (SNMP) requests, allowing you to monitor DNSBOX status and performance in real-time using network management software
Backup/Restore
Configuration parameters can be backed up with a single click, then archived or sent to ApplianSys support to help with troubleshooting
Restoring previous backups can be performed with similar ease
Backups can be automated and stored on-box or off-box
Upgrade
ApplianSys provides regular updates to add new features, improve performance and respond to new security flaws. These can be easily applied via the web interface.
The upgrade mechanism has been developed to minimise disruption to your DNS. Services continue to be available whilst an upgrade is applied.
When an update is applied, DNSBOX retains a copy of the previous firmware. If, for any reason you want to switch back, you can do so easily.