DNSBOX400 is a master appliance for integrated IPAM (IP Address Management), DNS and DHCP. It is a central management server for controlling unlimited remote DNS and DHCP servers and enabling integrated administration by a team of any size, distributed anywhere.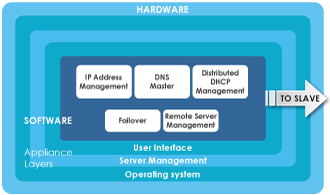 It features a carrier-grade fully-featured integrated DDI management application – first released in 1996 and soon adopted by more than half of the world's top 20 ISPs. Now in its 7th generation, it is embedded on ApplianSys' world-class appliance platform.
DNSBOX400 (Download factsheet) integrates particularly closely with the ApplianSys DNSBOX200 "slave" DNS / DHCP server, but is also compatible with any other RFC-compliant DNS server.