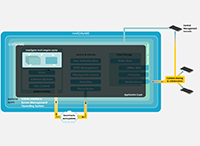 CACHEBOX only does caching – nothing else. It is purpose built for the task.  So it does it well.
Its core caching engine includes an open source, industry-standard web caching server. Through years of experience and testing, ApplianSys' web caching experts have:
Tuned the cache configuration and storage schemes to offer extremely high performance compared to a standard installation on a general purpose server
Created clever features to help you fit the cache to your network and traffic

With CACHEBOX you get more cache performance per $ than with alternatives.