As the size of a cache fleet grows, the task of administering it one server at a time can quickly become a nightmare.
If you have a large number of appliances in a single data-centre, repeating administrative tasks for each unit represents a major workload
A fleet distributed around many remote locations creates even bigger challenges. Either having trained resource on each site or transporting engineers to site as needed can be a huge cost and a big headache.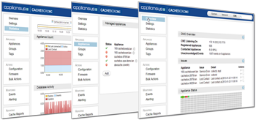 The solution – CACHEBOXCMC Central Management Console – is a must-have, making your life easier bulk managing your entire CACHEBOX fleet from a single browser:
Deploy multiple CACHEBOXes simultaneously with a single operation
Organise your appliances into groups for efficient management
Perform bulk configurations – deployment and security settings, firmware upgrades, pre-caching jobs and more
Monitor everything from one console – email/SMS alerts flag up issues with any connected CACHEBOXes before they become serious
Get informative, aggregated reporting on all units
Carry out one-click firmware upgrades and automated backups to groups or the entire fleet
Whether you are an education authority, service provider or enterprise, CACHEBOXCMC avoids the need for expertise on-site at remote locations and saves you time and money – again and again!