Chicago says CACHEBOXisaGO
August 24, 2022
ApplianSys is pleased to announce the largest order in its 22-year history: Chicago Public Schools (CPS), the nation's third-largest district – and long-term heavy caching user – has purchased a CACHEBOX for each of nearly 600 schools.
For over a decade, digital learning initiatives have contributed to Chicago's nation-leading test score improvements. It knows how caching made connected classrooms work at a time when its schools used relatively small connections and how it's still essential even with today's multi-gigabit links. But its fleet of Cisco caches were no longer fit for purpose and, with a disruptive network overhaul under way, it needed a replacement. Recognizing CACHEBOX as the only genuine caching solution for schools, the district chose to deploy an appliance in each of its schools but not before putting it through an extensive testing program. CPS is now seeing content delivered up to 20 times faster, maximizing its investment in network upgrades.
CPS are web caching experts
Despite being funded by the E-Rate program since 2015, many school districts still have limited awareness of modern web caching, with few network managers having used a web cache in the last decade. In comparison, CPS is uniquely equipped to understand the benefits and challenges of caching in a modern school environment having used web caches for many years, right across the district, right up to the present day.
Its aging fleet of Cisco caches were no longer fit for purpose: difficult to manage with entirely manual admin workflows and – crucially – diminishing caching performance, in the face of the shift to HTTPS content, which they did not support. The final blow was Cisco informing Chicago that, like other commercial caching vendors, it was discontinuing its caching solution completely.
With a complex network overhaul ahead, the district will eventually have a significant increase in bandwidth available to its schools. However, this is a five-year process during which users, at the end of relatively narrow legacy WAN links, would increasingly experience peak-time congestion. The district knew from experience that it needed caching to be able to use its existing bandwidth during this period. But more than that, it knew that caching will still be essential once its upgrade is complete.
CACHEBOX is the only effective school-caching solution
CPS sought an alternative solution to address the cost and complexity of its existing caches. CACHEBOX checked all the boxes: a modern, automated solution that handles both HTTPS and a far larger cross section of the district's content, including video and software updates. In truth, following Cisco's departure, CACHEBOX is the only genuine caching option for school districts.
Crucially – for Chicago Public Schools and districts across the United States – CACHEBOX optimizes video content made available via its Safari Montage Learning Object Repository. Teachers use of rich media content in class has been rising for several years, significantly so throughout the Covid19 pandemic. But to be an effective tool for learning, this content must be served without buffering, in fact Chicago has a policy that prohibits any content which takes more than 7 seconds to load on student devices. With CACHEBOX the District can be confident that content served by Safari Montage will meet the standard, protecting its investment in the system.
CACHEBOX benefits made crystal clear by extensive testing
To confirm its initial impression, the district conducted an in-depth evaluation comprehensively testing CACHEBOX over the course of a year. Roger Clark, Head of Education Technologies, worked closely with CPS during this evaluation and comments, "given their extensive experience with caching, the findings of CPS' testing are a great litmus test for districts across the nation. For many years, it has been clear to ApplianSys that caching offers worthwhile benefits to all schools, regardless of the size of their internet connection. CPS' successful testing further confirms that caching delivers value for the many different shapes and sizes of school within urban Chicago, just as it does for districts in the most remote corners of Alaska where the benefits are perhaps more obvious."
Detailed monthly reports from early CACHEBOX deployments provide a useful graphic representation of the difference in delivery rates between the internet connection and the local caching server: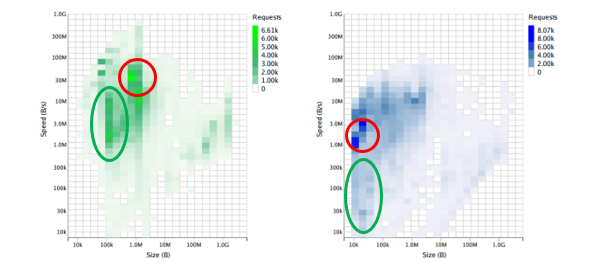 On the right in blue is traffic arriving from the internet with a hotspot around 1-3 Mbps (red circle) and a significant user-experience drag of smaller objects that are indeed very slow (green circle). Very few objects arrive faster than 30 Mbps and next to nothing above 50-60 Mbps.
In green on the left, accelerated content is reaching 300-700 Mbps with a hotspot centered on 10-60 Mbps. The tail of slow content circled in green has been pushed up to a faster average speed resulting in almost all objects being served at 1 Mbps at least.
CPS will complete the deployment of its new CACHEBOX fleet in August 2022, in time for the new school year's first online testing period.
About Chicago Public Schools
Chicago Public Schools is the third-largest school district in the United States, serving over 340,000 students in more than 600 schools. In recent years, the district has led the nation in test score improvement – a study from Stanford University shows that, over the last two decades, Chicago's students learned at a faster rate than 96 percent of all school districts in the country and its students' average test scores improved by roughly six grade-levels in five years – 20 percent more growth than the national average.